Asanogawa-o'hashi(Asanogawa river bidge)
 Hashibacho,Owaricho 2-Higashiyama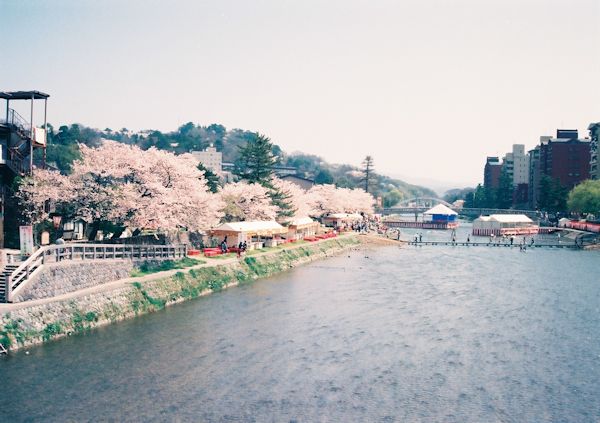 The bridges over there are Tenjin-bashi and Ume-no-hashi(only for walk).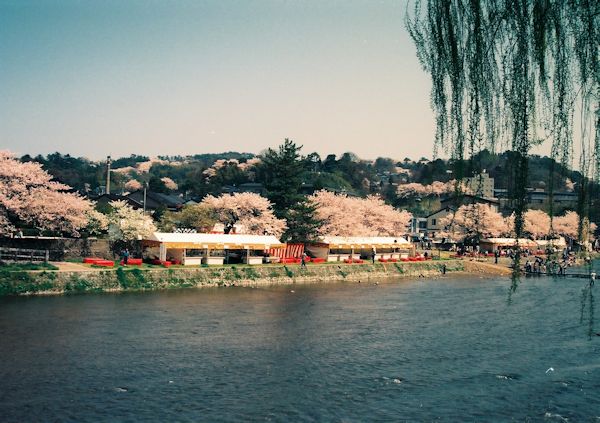 This is the view from Hashiba-cho to Mt.Utatsu.
(1998-04-11)
About cherry blossoms of Mt.Utatsu Park Line Yamanoue Side and Tenjin-Bashi Bridge Side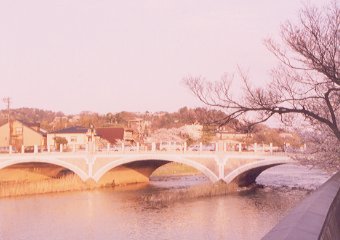 Asanoawa-Oohashi Bridge in evening. On your right side,there are Kazue-Machi,old town since Edo period. Please see this page.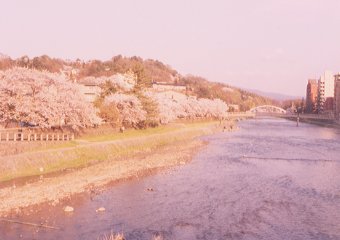 The mountain over the Mt.Utatsu is Mt.Iozen.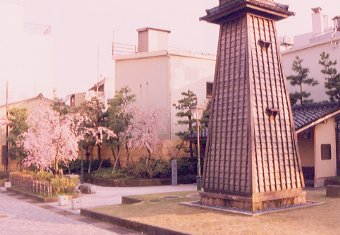 (2000-04-17)
*** Asanogawa-o'hashi ***
The old bridge was built here in 1594 by MAEDA Toshiie,the first feudal lord of Kaga.
This bridge was built in 1923.It is about 49 meters long in length.
This bridge is called "the Todoroki bridge" in the past.
*** Asanogawa river ***
River originting in Mt.Juno(883m) and flowing northwest into Lake Kahoku. Length:32.5Km.
One of the most popular river for citizen of Kanazawa.
The upper reaches of Asanogawa,there are Yuwaku hot spring.
Izumi Kyoka (novelist,born in Kanazawa,1873-1939) made his mark as a writer with the publication "Giketsu Kyoketsu"(The Righteous and the Chivalrous).
Asanogawa river is famous for its Ayu(sweetfish) and Gori(one of the freshwater fish).